All About Caves

Here's What Makes Them So Special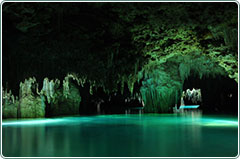 A cave is a natural hollow that forms below ground primarily in areas that are rich in limestone. Limestone is a type of absorbent rock that results from a sedimentation and fossilization process started 50 million years ago on the floor of the sea. Limestone originates from the remains of mollusks, coral and other marine reef organisms. Due to telluric movements that shift, fold and push the earth's crust, these petrified remains eventually get exposed to the open air in the mountains. About 20% of our region is formed by limestone.
The perfect formula for forming caves: heavier, more frequent rain combined with softer, more soluble limestone creates the deepest and longest caves, just like the ones at
Río Secreto
.
Are caves, caverns and grottoes the same?
Caverns and grottoes are two types of caves. A cavern is a very deep cave. A grotto is a cave with access from the surface of the ground or from the sea, especially one with interesting natural features.
Caves can be in two states: fossil or active
. A fossil cave is typically formed due to the passage of water. On occasion, the water flow will take a different path and the cave, which was once filled with water, will become dry. An active cave is one where water is always flowing.
The types of caves found in Mexico
Gypsum Caves:
these types of cave are very rare in Mexico, but when they are found, they are usually very long. The extreme length is due to the gypsum dissolving easily in water.
Conglomerate Caves:
these caves are formed by sediment left after a volcanic eruption, which then mixes with limestone material. Presently, only three conglomerate caves have been found in the entire world, and two of them are in Mexico.
Sunken Caves:
the sinkholes, or cenotes, found in the Yucatan Peninsula are known as sunken caves, which are the rarest of all three types of caves. The longest sunken cave is found in the state of Quintana Roo.
Ready to experience a cool cave tour?
Call Río Secreto toll-free at (888)-844-5010 US & CANADA