Rio Secreto News and Press Room
Dec, 2010

Río Secreto, heralded as an example of sustainable tourism during event attended by Calderón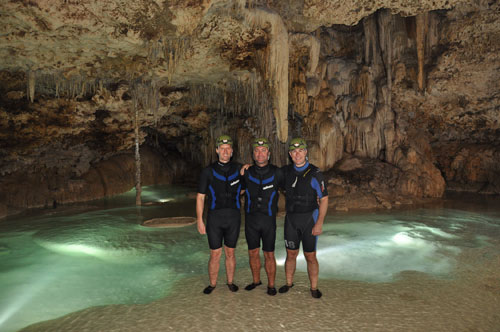 By letting people get to know and feel nature, tourism enables them to preserve it.
The president of the Adventure Travel Trade Association highlighted his "transformative experience in Río Secreto"
In the setting of the COP 16 summit, and in the presence of the President of the Republic, Felipe Calderón, Shannon Stowell, president of the
Adventure Travel Trade Association (ATTA)
, an organization that promotes sustainable tourism around the world, talked of how "transformative" his visit to Río Secreto had been, during the opening speech at the forum entitled Tourism's Answer to Climate Change. During Stowell's speech he proposed solutions for making tourism an ecologically friendly and enriching activity for the communities where it takes place.
With President Calderón and Gloria Guevara, Minister of Tourism, as witnesses, Stowell praised the
Río Secreto
nature reserve
– located 10 minutes from
Playa del Carmen
– for being an example of environmentally friendly tourism. "Interacting closely with nature and culture has an impact on a traveler that is impossible to replicate any other way. Just yesterday I had my own transformative experience at Río Secreto. The beauty of the site tells the story of the importance of protecting water sources. And it will take transformation and disruption to change consumer behaviors that are so deeply ingrained and have an impact on carbon footprints."
He added that adventure tourism is the bridge between the problem and the consumer. "The more that people see, feel and interact, the more they will understand what is happening to the world around them; they must take this back to their lives and businesses"
Shannon Stowell
finished his speech by declaring that "We do face daunting challenges. (..) and the tourism industry must address the issues head on."
Río Secreto
is pleased that its operation and business model promotes sustainability as an integral part of the solution, enabling the tourism industry to preserve its environmental base and generate wellbeing for all the inhabitants of the communities where it operates.
---
Oct 31th, 2010

Río Secreto, the best "green" attraction in Mexico

and Central America for the 2nd consecutive year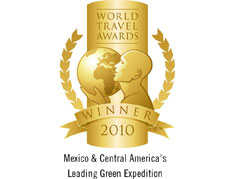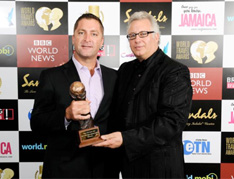 For the 2nd consecutive year the
Río Secreto nature reserve
received the majority vote from thousands of tourism industry professionals and consumers, considering it to be the
best "expedition" or "green attraction" i
n the recent awards ceremony of the World Travel Awards for the Americas (U.S.A and Canada, Mexico and Central America, the Caribbean and South America)
On the short list of those competing in this category were Chankanaab Park in Cozumel and the whale shark sightseeing tour on the island of Holbox.
The winners were selected by thousands of professionals from the "smokeless" industry and consumers from around the world who voted by internet. Graham E. Cooke, founder and president of the World Travel Awards, said during the awards ceremony held in Jamaica that " the Americas are emerging from the global recession stronger than ever."
Established 17 years ago, the objective of the World Travel Awards is to raise the standards of services received by clients.
Río Secreto, along with the rest of the winners, will compete in the 2010 World Travel Awards grand final to be held in London on November 7th, 2010, just before the World Travel Market.